Silicone Radiator Hose
Silicone Radiator Hoses manufactured by Samco for Alpine Innovations specifically for the Sunbeam Alpine.
Supplied as a set of three hoses ( Top, Bottom & By-pass) suitable for Series III, IV & V.
A lifetime warranty is offered on the  Hoses if used with Samco's own stainless steel hose clips, supplied as a complete set . ( 1 x 50mm, 3 x 45mm & 2 x 25mm).
Available in standard semi gloss Black £65.00 (+VAT) or classic Black £73.33 (+VAT) other colours available on special order.  Stainless Steel Hose Clip set £15.00 (+VAT).

Silicone Heater Hose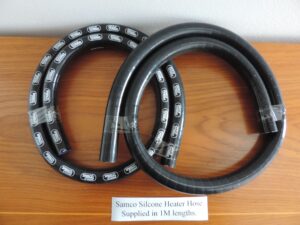 We also have silicone heater hose in 1 metre lengths.