Refurbished Alpine / Tiger  / Rapier Wooden Steering Wheel
The refurbished / remanufactured Wooden Steering Wheel is supplied on an exchange basis.  The exchange wheel can be either Wooden or Bakelite but must be in reasonably serviceable condition.  It is also possible to have your old steering wheel refurbished.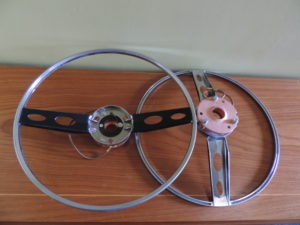 The Horn Ring is available to be purchased separately.
We also have limited number of remanufactured wooden steering wheels, including a new boss surround available as an outright purchase rather than as exchange. Horn ring is not included but is available separately.